About This Collection
Renowned for their custom luxury furniture, American Leather® blends the best in technology and state-of-the-art craftsmanship, allowing for the most beautiful styles, innovative designs, and a wide variety of custom options for fabrics, colors, and configurations. Founded and hand crafted in the U.S.
Check out our range of leather and upholstered sectionals, chaise lounges, sofas, and American Leather® Comfort Sleepers. Each is available in range of colors, fabrics, and styles.To learn more about the American Leather® collection or to place your order, call us at 802-862-5056 or email us at [email protected].
Why I Love American Leather
"I've been outfitting my living spaces with American Leather for years now. Their sectionals can fit just about any challenging space and they are so stylish, too! See what selections we have for your rooms."
Visit Us
All Products at Burlington Furniture
INNOVATION. DESIGN. QUALITY. SPEED.
Started and founded by small team of engineers in 1990, American Leather has evolved and grown to be a prominent figure in the design and custom furniture industry. Today, they are located in Dallas, Texas and utilize their state-of-the-art facility for the production of their unique and dynamic furniture collections.
American Leather's commitment to expert craftsmanship, innovation, and design has promoted their growth and dedication to an all-embracing quality of life. This is proven through focusing on the needs of retail partners and consumers, local businesses and designers nationwide, while also maintaining hundreds of U.S. manufacturing jobs for the economy.
ENDURING STYLE, SUSTAINABLE PRACTICES
American Leather is one of our leading vendors for sustainably made furniture. They are founding members of the Sustainable Furniture Council (SFC) and their commitment to environmentally made products is unmistakable in every aspect of the company and every step of production.
With custom made pieces, frames are built on an "as needed" basis and constructed from wood harvested from sustainable forests. Leather dyes consists of water-based pigments and eliminate any harsh chemicals. Their cushions utilize a soy-based poly that is 100% recyclable without diminishing the quality and densities American Leather is known for providing. All features in the sofa construction are free from fire retardants or any harmful chemicals. Furthermore, their Dallas, Texas location ensures a significantly reduced carbon footprint by eliminating the need for over-seas transportation with all production happening on site in their energy efficient factory.
From their history to their production line, quality and eco-friendly construction work harmoniously to provide consumers with modern furniture and home design they can feel good about.

---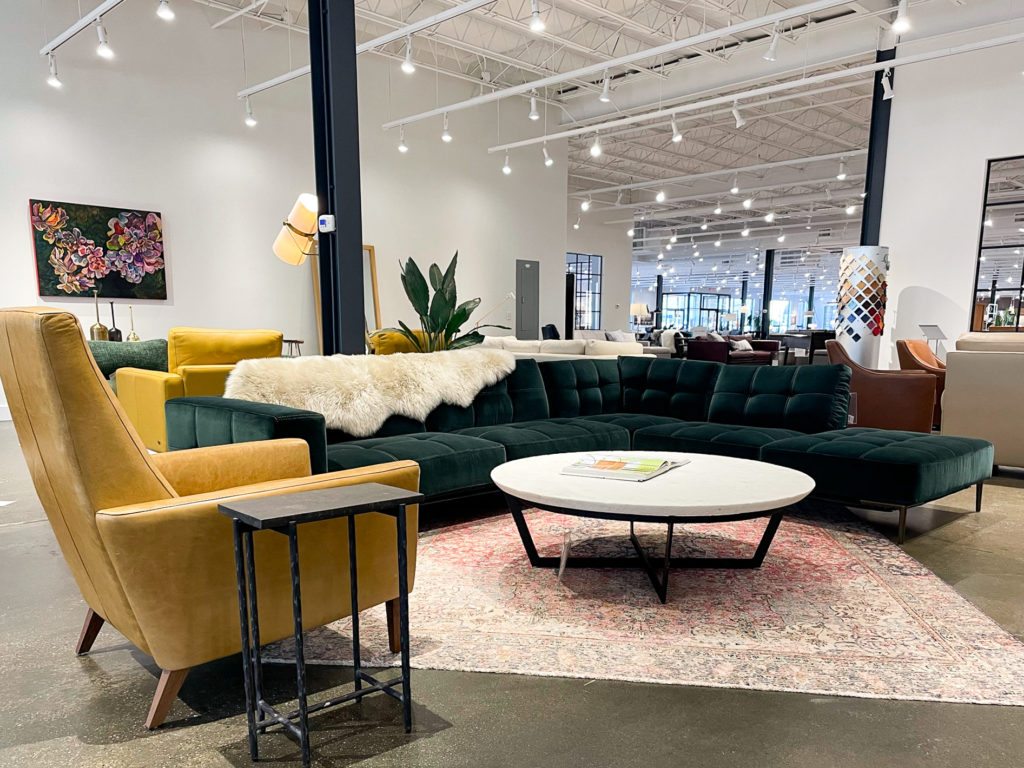 Our American Leather Gallery is Open!
We are excited to announce our American Leather Gallery is open and ready to inspire our local design scene! Check out it out here!

Doors open at 10 am! Feel free to tour the gallery via our online virtual tour!

Concerned about COVID-19? Check out our health measures here
---