About this Collection
Innovation Living exists to expand your living spaces by offering furniture that makes a difference in everyday life. Good design that combines style, comfort and functionality. Innovation Living is not just a name, it's what they do! Good aesthetic design must go hand in hand with great functionality and good comfort. That is why their focus has always been on creating long-lasting design with a contemporary appeal.
To learn more about Innovation Living or to place an order, call us at 802-862-5056 or email us at [email protected].
See something you like in the catalog?
Innovation Living & Danish Traditions
Established on the belief that form and function must go hand in hand to create innovative, durable designs for everyday use. Since 1989 Innovation as dedicated themselves to design and development of multifunctional sofa beds. Inspired by the Flower Power generation of the 70's, Innovation Living™ was rewarded with several design prizes and engaged in a very fruitful cooperation with the famous Danish designer, Verner Panton.
Today, Innovation Living ™ is renowned sofa bed specialist offering their Danish design right in Burlington, VT on our show room floor!
Comfort by Day & Night
Comfort is always at the center of Innovation's design process.
Aesthetic design must go hand in hand with great functionality and good comfort. All of their sofa beds are supplied with comfortable mattresses, providing the perfect balance of softness and support for your body, ensuring a comfortable sit and sleep.
The cushioning effect of the springs provides a great level of comfort that will help you relax and sleep comfortably. The springs work independently and ensure that even two people sharing the bed will experience individual support, effectively lowering the motion transfer for an undisturbed sleep. Now you and your guests can be sure of having a sound sleep and wake up the next day completely refreshed.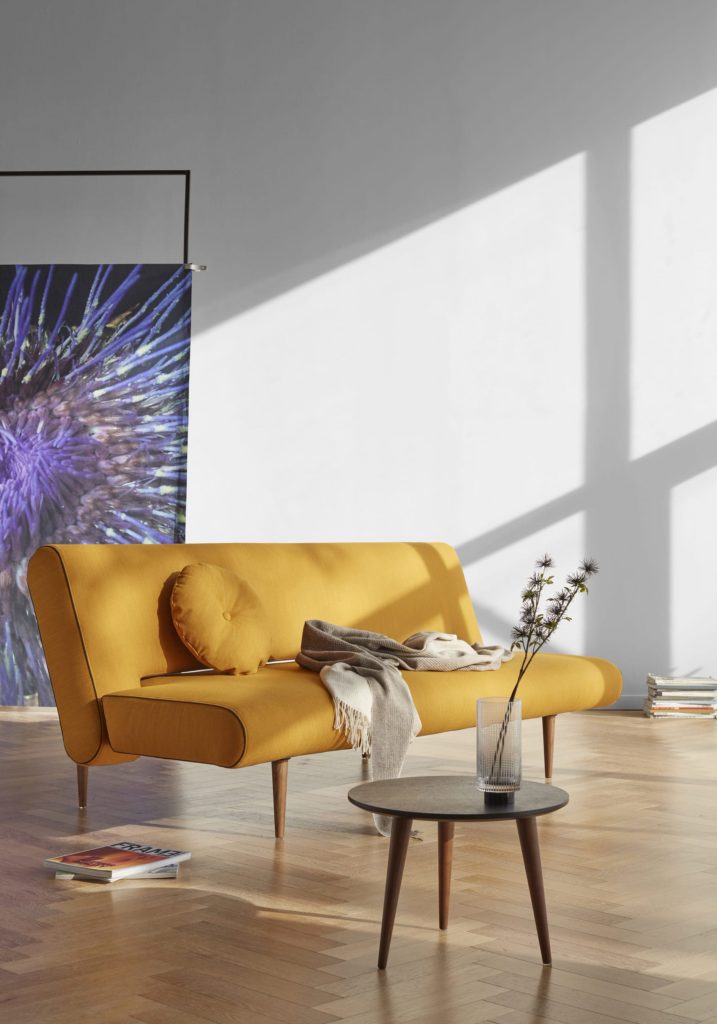 Sustainability & A Better Environment Inside and Out
Innovation is known for their clear vision for the future with not only their designs but their company values as well. They have a certified environmental profile, and all recyclable waste, like cardboard, plastic, iron and metal, is separated and used in other productions. Residual, combustible waste is incinerated in low-pollution plants. Packaging is reduced to the minimum needed for safe transportation.
Furthermore, Innovation utilizes fabric made from Recycled plastic bottles. Vivus, is the name of their OEKO-TEX certified fabric made of 100% post-consumer recycled polyester.
Having worked around different sustainable themes such as flat packing, renewable designs and recycled textiles, Innovation is focused on both their designs and the future of sustainable furniture.